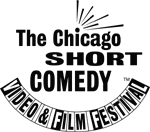 Celebrity Guest Appearances
One factor in building the success of The Chicago Short Comedy Video and Film Festival was the appearance of celebrity guests. Here are the talented Chicago people who have participated in the event:
1998 Festival

Dan and Paul Dinello: Paul, a veteran of Second City and the Comedy Central shows Exit 57 and Strangers With Candy (as well as director and star of the Strangers With Candy movie), spoke along with his uncle and filmmaking partner Dan, a film instructor at Columbia College, media journalist and author of the book Technophobia! Science Fiction Visions of Posthuman Technology. Subject: their comedy filmmaking experiences, and about taking their short, Shock Asylum, to the Sundance Film Festival.
Tim Kazurinsky: Tim -- a veteran of Second City, a former cast member of Saturday Night Live, screenwriter of About Last Night and The Cherokee Kid, and star of Police Academy and other films -- helped to get the first festival off to a great start by appearing in a short made just for the festival. Prior to its screening, he shared with the audience some filmmaking anecdotes. Tim has recently appeared in the TV shows According to Jim and Curb Your Enthusiasm, and the film I Want Someone to Eat Cheese With. He wrote the screenplay for My Beautiful Son (aka Strange Relations) which appeared on British TV in 2001, and which won a BAFTA TV award for best actress (Julie Walters) and was nominated for Best Single Drama; it also was nominated for a National Television Award and a Writers Guild of America Award.
1999 Festival

Mick Napier: Mick, Founder and Director of Annoyance Productions and The Annoyance Theatre, talked about comedy filmmaking, with his film Peepshow screened directly following. Mick is a Jeff and Obie Award winner, director of the Troma Pictures release Fatty Drives the Bus, and director of a number of Second City revues, including The Psychopath Not Taken. He appears in the Harold Ramis film, The Ice Harvest.
David Pasquesi: David, a Second City alumnus, has written and performed in numerous short subject and independent feature films. Movies in which he has appeared include Return to Me, Employee of the Month, Strangers With Candy, I Want Someone to Eat Cheese With, The Ice Harvest, Groundhog Day, and Father of the Bride. Dave starred in the acclaimed production of Glengarry Glen Ross at the Steppenwolf Theatre. TV show credits include According to Jim and Curb Your Enthusiasm.
2000 Festival

Rich Talarico: Rich shared some of his experiences in working in the short film and video industry, with Hotel Soap, in which he stars, shown directly following. Rich's television credits include Early Edition, The Sports Bar, and more than a dozen commercials; he also appears in the film High Fidelity. He has starred in several revues at Second City, and has worked as a writer for MADtv and Saturday Night Live.
Matt Walsh and Armando Diaz: Matt and Armando spoke on guerrilla filmmaking, followed by two entertaining, on-the-street prank films written and performed by Upright Citizens Brigade, of which Matt is a member, and directed by Armando. Armando is the creator of The Armando Diaz Experience at I.O. Chicagoan Matt was active in Annoyance Theatre productions before moving with his troupe to New York, where UCB's show was featured on Comedy Central. Most recently, Matt has appeared in the TV shows Reno 911! and Arrested Development, and the films Road Trip, Bad Santa, Starsky and Hutch, and School for Scoundrels.
2001 Festival
Adam McKay: Adam is a writer and director whose credits include the directing of Anchorman, which he co-wrote with star Will Ferrell, and the co-writing (again with star Ferrell) of the film Talladequa Nights. He was head writer of Saturday Night Live from 1996 to 2000, and later wrote and directed a number of short films for SNL, two of which were screened at the festival following his talk. In Chicago, he studied comedy at I.O., was a performer at Second City, and was a founding member of Upright Citizens Brigade.

Joyce Sloane: Joyce is Producer Emeritus of Second City. Generally recognized as the "Mother of Second City," Joyce has worked at Second City for 40 of its 41 years, and was central to its development into the landmark of comedy it is today. A native Chicagoan, she has been active throughout her career as a valuable advisor to the Chicago theater community, and also is a noted supporter of local charitable causes. Tributes to her in Chicago include the Kupcinet Leadership Award, presented to her in 2005, and the Heart of Gold Award, given to her in February 2006.

2002 Festival
Paul Dillon originated the role of the cab driver in Hellcab, the long-running dark comedy that became a Chicago institution, and which he produced in 1998 as an independent film, with himself as star and with a cast that included John Cusack. Paul has appeared in many feature films, including Austin Powers: International Man of Mystery, Soldier, Fight Club and Natural Born Killers; as well as TV series such as Night Stalker, CSI: Crime Scene Investigation, Pretender, and Millennium. Paul shared some of his experiences in working in the film industry.
Emo Philips is a native Chicagoan who has appeared many times on Late Night With David Letterman and who has had concert specials on HBO and Showtime. His most famous acting role was as the butterfingered circular saw operator in the cult classic UHF. He also executive-produced the original Meet the Parents, which was shot in Chicago for under $35,000 and received outstanding reviews.
2003 Festival
Steve Dahl has been entertaining Chicago for twenty-five years through the radio. Host of The Steve Dahl Show on WCKG, his talents extend to television and concerts as well. Winner of an Emmy in 1982 for Greetings From Graceland, he since has entertained TV audiences with It's Too Early, New Years Steve and Gary, and the CBS show, The Midnight Hour, and co-produced a Soundstage musical series for PBS. Steve is a noted musician and composer; a song he co-wrote appeared in an album of his friend, former Beach Boy Brian Wilson. On February 21, 2003 Governor Rod Blagojevich proclaimed "Steve Dahl Day," to honor his achievements.
Scott Dikkers was Editor-in-Chief of the internationally popular humor publication The Onion for 12 years, through 2001 (assuming the post again in 2005). He has written comedy sketches for National Public Radio and co-developed and wrote the recurring feature Virtual Bill for MTV. He also is co-author of the books Our Dumb Century and Destined for Destiny: The Unauthorized Autobiography of George W. Bush. Scott was the founder, with Michael Hirsch, of Dikkers Amalgamated, a Chicago-based film production company, whose productions included The Astounding World of the Future, winner of best short at the 2001 New York Comedy Film Festival, and the feature film, Spaceman, acquired by Palm Pictures for worldwide distribution. Scott talked about his experiences in making independent comedy films, followed by a screening of the trailer for his feature film, Bad Meat, shot in Chicago with Chevy Chase.
2004 Festival
Stephnie Weir is a veteran of Second City and I.O. Chicago stages. She and her husband, Robert Dassie, have performed, written and improvised versions of their show, WeirDass, in Los Angeles, Chicago, New York, Charleston and Edinburgh. Stephnie was a cast member and writer for MADtv from 2000 to 2006. She starred in the 2005 film Fun With Dick and Jane.
Andrew Alexander has been co-owner of Chicago Second City since 1985, and is responsible for expanding its Theater Division to include Detroit, Las Vegas and Los Angeles. (He founded Toronto Second City in 1974.) A legend in the field of comedy television producing, Andrew's first television production, in the late '70s, was the award-winning SCTV (with 185 half-hour shows), followed by co-production deals with MGM Television, Imagine Films, Disney Studios and United Artists. He also has developed television programming for ABC, CBS, NBC, Fox Television, Comedy Central, HBO, Showtime, A&E and Canadian Broadcasting Corporation. Andrew has produced movies and television with some of North America's biggest stars, including Bonnie Hunt, Martin Short, Harold Ramis, Jim Belushi, Ed Asner, Shelley Long and Dan Akroyd; the latter stars in Andrew's film, Whitecoats. The release in 2004 and 2005 of the SCTV series in boxed DVD sets has been a major event for comedy fans worldwide. Several clips from the first volume set followed his talk.
2005 Festival
Jim Zulevic was one of the best-liked and highly regarded people working in comedy in Chicago, and his untimely death of a heart attack, on January 7, 2006, at age 40, caused sadness to all who knew him and his work. He was an acclaimed actor, writer and director, whose career spanned theater, films, television, and teaching. He worked at Body Politic, Steppenwolf and Second City during the 80s and 90s, and at Second City helped write and perform nine original revues, including Paradigm Lost, which earned him a Jeff Award nomination. A graduate of Columbia College, he later served on the college's staff, teaching improvisation and sketch comedy. His work in Los Angeles included such movies as The Specials and Matchstick Men, and such TV shows as The Shield, Seinfeld, Curb Your Enthusiasm, Early Edition and The Drew Carey Show. Jim also wrote for The Jamie Kennedy Experiment, VH1's Ill-Ustrated and MTV's Lyricists Lounge. He spoke at the 2005 Chicago Short Comedy Video and Film Festival about his experiences in comedy. In the fall of 2005, he was signed to a new show on WCKG FM, Second City Radio, on which he worked until the time of his death.
D.P. Carlson is committed to promoting the importance of Chicago filmmakers staying and working in the city. Since 1990, the Chicago filmmaker has produced and directed numerous independent shorts and feature-length films here, and has worked as a cameraman for Discovery Channel, MSNBC, Bravo, FoxSportsNet, CSTV and National Geographic Television projects. His documentary, Homeless '99, won several festival awards, including silver plaque for best documentary short at the 1999 Chicago International Film Festival. His acclaimed Chicago Filmmakers on the Chicago River, filmed on a variety of boats on the river, features interviews with a wide variety of established and independent Chicago filmmakers, offering insights into their creative processes, and what Chicago means to them, personally and professionally. Several clips from the film, including an interview with Harold Ramis, were screened following his talk.
2006 Festival
Charna Halpern, the creator of long form improvisation, along with her partner, the late Del Close, has changed the face of improvisational comedy forever. The two were responsible for developing the talents and sensibilities of some of the biggest comedic stars in show business. Their alumni include: John Belushi, Bill Murray, Gilda Radner, Mike Myers, Chris Farley, Tina Fey, Amy Poehler, Andy Dick, Andy Richter, Tim Meadows, Rachel Dratch, Horatio Sanz, Neal Flynn, Adam McKay, David Koechner, and many other stars. Charna is Director of I.O. in Chicago (formerly ImprovOlympic) and I.O. West in Los Angeles. Her appearance at the festival coincided with the release of her second book, Art by Committee, and her 25th year in business — which had been celebrated by a return of all her alumni in a star-studded celebration that yielded a DVD and a television special.
Tom Palazzolo is the most acclaimed Underground filmmaker in Chicago. The more than 50 short films he's made since his pioneering 16-mm film O in 1965 have captured the city and its people – spotlighting Chicagoans' love of parades, politics, sex, arguing, and having fun – and have earned a place of affection in the hearts of film fans worldwide. Well-known comedic films include The Bride Stripped Bare (about the unveiling of a Picasso statue), Rick and Rocky, about an Italian-Polish backyard bridal shower, and Jerry, about an outrageous deli owner. Tom's films have won many awards, and have been showcased at the Museum of Modern Art and other leading museums. Also a talented painter, Tom teaches art history at Columbia College.
Jack Helbig, Tom's frequent collaborator (beginning in the early 80s with Jack's book version of Tom's feature film Caligari's Cure) is a Chicago journalist, teacher and playwright. Among his theater projects was the musical (with Gregg Opelka) Hotel d'Amour, a musical version of the classic farce A Flea in Her Ear. Jack writes about theater and the arts for the Chicago Reader and PerformInk. Jack and Tom's short film, Bartholomew Whoops and the Bad, Bad Ball (which they co-wrote and Tom directed) was screened following their talk.
2007 Festival and Later
The format of the festival was changed beginning in 2007, because of the addition of the Chicago Comedy TV Pilot Competition to the event. The resulting need for shorter shows meant the presentations by celebrities were discontinued for the shorts festival. (Information on the TV pilot fest can be viewed on this web-site.)
Celebrities in Festival Films

In addition to the above guest speakers, here are some other well-known Chicagoans who have appeared in films screened at The Chicago Short Comedy Video and Film Festival, with some of their credits listed:
Len Bajenski, Payback, Novocaine
Stephen Colbert, The Colbert Report, The Daily Show, Strangers With Candy (TV show and movie), American Dad, Bewitched, Law & Order, Curb Your Enthusiasm
Kevin Dorff, writer for Conan O'Brien Show
Rachel Dratch, Saturday Night Live, The King of Queens, Frasier, Monk
Tina Fey, Saturday Night Live, 30 Rock
T.J. Jagodowski, The Ice Harvest, Second City Radio
Andy Richter, Conan O'Brien Show, Andy Richter Controls the Universe, Arrested Development, Will & Grace, Lunchbox Chronicles, Elf, Malcolm in the Middle, Big Trouble, Dr. Dolittle 2
Mitch Rouse, Strangers With Candy, Exit 57, Lost at Home, Employee of the Month, According to Jim, Reno 911!
Horatio Sanz, Saturday Night Live, Boat Trip, Road Trip, School for Scoundrels
Amy Sedaris, Strangers With Candy (TV show and movie), Exit 57, I Want Someone to Eat Cheese With, Bewitched, Law & Order, Elf, The School of Rock, Monk, Sex and the City