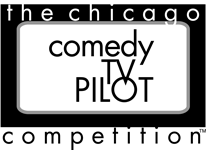 Judging of the Entries
To be considered for the Chicago Comedy TV Pilot Competition, an entry must be a Chicago product -- that is, the filmmaker who owns the copyright must have been a Chicago area resident at the time the pilot was made, or alternatively, the pilot must have been created by a Chicago-area-based production company that owns the copyright. Pilots are required to be comedy, scripted, and based on original ideas. Also, it must feature a situation and characters that could continue beyond the pilot – i.e., it must be a sitcom, rather than sketch comedy format.
The jury consists of people who work in the TV industry in Hollywood (see below). This is not a live jury, but rather, the pilots are sent to them on DVD for their judging. The winning pilot this year receives a $500 cash prize from Cinespace Chicago Film Studios (see Prize page).
The winning pilot for 2016, based on the jury member ratings, is You're So Talented by Our Names Are Sam (see First Place Award Winner page).
2016 Jury Members:
Jim Donnelly, Sr. VP Comedy Development, Universal Television
Avi Gilbert, Manager and Producer, 3 Arts Entertainment
Abby Glusker, Television Literary Coordinator, United Talent Agency
Tim Sarkes, Talent Manager, Brillstein Entertainment Partners
Kristen Schwartz, Coordinator Comedy Development and Programming, Fox Broadcasting Company
Jim Sharp, Senior Vice President–Original Programming and Development–West Coast, Comedy Central
The late Tom Whedon, celebrated writer and producer of some of Hollywood's best-loved sitcoms, was a jury member from 2007 to 2015, and provided valuable input during the formation of this festival 10 years ago. Everyone connected with the Chicago Comedy TV Pilot Competition owed him a sincere debt of gratitude.
| | |
| --- | --- |
| TV Pilot Prize Winner 2016: | |
| You're So Talented by Our Names Are Sam. | |
| | |
| Past Award Winners: | |
| | |
| TV Pilot Prize Winner 2015: | |
| Young Couple by Brianna Baker, Brandon Ogborn and Mike Malarkey | |
| | |
| TV Pilot Prize Winner 2014: | |
| Delivery Dudes, by Joe Avella | |
| | |
| TV Pilot Prize Winner 2013: | |
| Merkin Penal, by Mitch Rouse and David Pasquesi | |
| | |
| TV Pilot Prize Winner 2012: | |
| Funemployed, by Michael Lippert | |
| | |
| TV Pilot Prize Winner 2011: | |
| Single Long, by Jack Mayer and Sarra Jahedi | |
| | |
| TV Pilot Prize Winner 2010: | |
| Vista Del Monte, by Adrian DiGiovanni | |
| | |
| TV Pilot Prize Winner 2009: | |
| Lowering the Bar, by Kenneth Yoder | |
| | |
| TV Pilot Prize Winner 2008: | |
| 4 and a Half Terrorists, by Olive Films | |
| | |
| TV Pilot Prize Winner 2007: | |
| Cop Show, by David Pasquesi and Tracy Letts | |